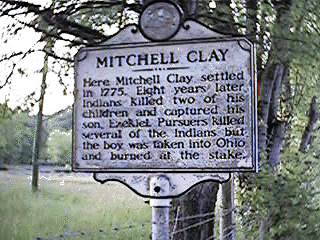 Descendants of Mitchell Clay
Generation No. 1
1. MITCHELL6 CLAY (WILLIAM MITCHELL5, HENRY4, CHARLES3, JOHN THOMAS2, JOHN1) was born 1735, and died 1811. He married PHOEBE BELCHER in Chesterfield Co Va, daughter of RICHARD BELCHER.
Notes for MITCHELL CLAY:
In Aprill 1774 Mitchell was granted by Dunmore, the Royal Govenor of Virginia and asignee of Lieutenant John Drapger, 800 acres of land on Bluestone Creek, Clover Bottom, then in Fincastle County Virginia. (now located in Mercer Co WV. By the terms of this grant Mitchell Clay was required to take possesion of the land within three years, clear so much per year, and render so much ground rent to the King of Great Britain. In payment for this tract of land, Clay gave Draper a negro woman and her children, executing to him therefor a bill of sale. Many years afterward, and after Mitchell Clay had died in 1872, this trade gave rise to two interesting lawsuits: one by the negro woman and her children against Draper or his representatives for their freedom, which they succeeded in establishing: and thereupon the representatives of Draper sued the executors of Mitchell Clay and their sureties, recovering a large decree against them, resulting in the bankruptcy of Captain William Smith and the estate of Colonel George N Pearis, husband to Rebecca Clay, sureties of the executors of Mitchell Clay
From Virgil Lewis in his book, "The History of the Battle of Point Pleasant", "Mitchell Clay, the elder, with his two brothers, David and Ezekiel, were with the army of General Lewis at the Battle of Point Pleasant, Oct 10. 1774".
An order of Montgomery County Court entered June 4, 1787 recommends Mitchell, Charles and William Clay for ranks of Captain, Lieutenant and Ensign, respectively of the 2nd Bat., 86th Regt., Virginia Militia.
The 1806 Giles County Tax list shows Mitchell with 1 slave over 16 yrs of age and 2 animals.
The 1810 Census shows Mitchell with 2 males in his household and still owning 3 slaves.
The following is from Mitchell's will written and recorded in Giles County Will Book A, paage 71. To each of his daughters, $1.00, which he names, Patience Chapman, Rebecca Pearis, Obediance French, Polly Stuart and Sally Peters. Also to each of the children of his son David, deceased, $1.00. Son Mitchell received on negro girl named Lidy. William received on negro boy named Ned, Charles received one negro girl named May, and Henry received one negro girl named Rachel. The lnad he now lives on and all stock of horses, household and kitchen furniture except 3 cows of average value to Charles. Also to Henry and Mitchell the tract of land I bought from Reuben Roberts, land on Five Mile fork to be sold to pay my debts of 100 acres. All four sons to share equally in the value of the negro woman, Phoebe and her son Jack. His four sons are aappointed executures. Signed July 6, 1810
A codicil changed distribution by giving the Negro woman Phoebe and son Jack to Mitchell. Liddy went to Mitchell not William and Charles was only to receive 1 cow.
Property list: 7 head of cattle $47.00
2 bee hives 3.50
6 cow hides and 1 horse hide 8.83
42 bushels of wheat 2.25
3 bushesl of rye 1.50
2 calves/ 1 young horse 4 yrs old
($10) 13.00
1 old gray horse ($20)/11 shoats 31.00
1 sow/3 head of sheep 6.67
Slaves: 1 negro woman Febe & son Jack 310.00
1 negro girl Leddia 250.00
1 negro boy Ned 200.00
1 negro man May 160.00
1 negro girl Rachel 115.00

Total $1228.31
Mitchells grave was moved from his farm on the New River in 1985 in order to build an industrial plant of Celanese Corp of America.
Notes for PHOEBE BELCHER:
Phoebe is believed to be the sister of Elzabeth Belcher Bailey
Children of MITCHELL CLAY and PHOEBE BELCHER are:
2. i. DAVID7 CLAY, b. Abt. 1755; d. Bef. 1810.
DAVID7 CLAY (MITCHELL6, WILLIAM MITCHELL5, HENRY4, CHARLES3, JOHN THOMAS2, JOHN1) was born Abt. 1755, and died Bef. 1810. He married UNKNOWN.
Children of DAVID CLAY and UNKNOWN are:
11. i. TABITHA8 CLAY, b. Abt. 1778; d. Bef. 1840.
ii. ELEANOR CLAY, b. Abt. 1778.
Notes for ELEANOR CLAY:
Tazewell county Va records show that a Eleanor Clay, daughter of David Clay came to court to choose George Davidson as her guardain.

ii. CHARLES CLAY, b. Abt. 1755.
Notes for CHARLES CLAY:
1810 Va census shows him in Giles co with wife and 1 child under 10.
1820 shows an additional daughter in household under 10, This is the Charles Clay listed in the 1820 Census for Montgomery county.
1806 Giles co property lists show him with one animal.
Charles is mentioned in the will of Mitchell as receiving one cow and one negro boy named May
iii. TABITHA CLAY.
Notes for TABITHA CLAY:
When Mitchell Clay settled on the Clover Bottom land in 1775, he was the second settler in what is now Mercer County WV. MItchell and his family remained on this land undisturbed for a period of about 8 years, but were finally attacked by Indians.
In the month of August 1783, after Mitchell had harvested his crop of small grain and desiring to get on with the benefits of the pastures for his cattle off the ground on which his crop had grown, he placed 2 of his sons, Bartley & Ezekiel, to build a fence around ths tacks of grain, while he went out in the search of game. His older sons seem to have been away from home. It was in the afternoon, while these 2 young men were at work, and the older daughter with some of the younger girls were at the river washing, that a marauding party of 11 Indians crept up to the edge of the field and shot Bartley dead. The discharge of the gun alarmed the girls at the river, and they started on a run for the house, the pathway leading directly by where Bartley had been killed.
An Indian attempted to scalp the young man, and at the same time to capture the older girl, Tabitha, who undertook to defend the body of her dea brother, and prevent his being scalped, and in the struggle with the Indian, she reached for his knife, which hung in his belt and missing it, the Indian drew it and stabbed her repeatedly until he had practically cut her to pieces before killing her. The small girls during the melee, escaped to the house, and the brother Ezekiel, a lad of some 16 years being captured by another Indian.
About the time the attack was made by the Indians, a man by the name of Liggon Blankenship called at the Clay cabin, and when Phoebe discovered her daughter in the struggle with the Indian, begged Blankenship to go and shoot the Indian and save her child, instead thereof he took to his heels and ran to the New River settlement and reported that Clay and all of his family hada been killed by the Indians.
The Indians after securing the scalp of the young man, Bartley, and his sister Tabitha, with their prisoner Ezekiel, left the scene. So soon as Phoebe Clay ascertained that the Indians had departed, she took her children and carried the bodies of her dead ones to the house and placing them on a bed, left the cabin with her children and made her way through the wild woods, 6miles to the house of James Bailey, who lived at a place on Bush Creek waters and was the Clays nearest neighbor. Mitchell, upon arriving home at dusk supposed that all of his family had been killed or were captives, immediately left the cabin for the New River settlements. As he traveled he discovered that the Indians were at his rear and he left the path in order to evade them. The Indians stole a number of horses and immediately began their retreat to the Ohio River.
Information was conveyed to the various neighborhoods and a party of men under Captain Matthew Farley went to the Clay cabin and buried the bodies of Bartley and Tabitha. The pursuit then began. The Indians were caught in what is now Boone County WV near Pond Fork. 2 Indians were killed outright with the other fleeing down the river. The white people recovered their horses but not Ezekiel, who was taken to the Indian town of Chillicothe and burned at the stake.
iv. BARTLEY CLAY.
v. EZEKIEL CLAY.
3. vi. MITCHELL JR CLAY, b. Abt. 1769.
4. vii. REBECCA CLAY, b. Abt. 1765; d. April 15, 1844.
5. viii. OBEDIANCE CLAY, b. Abt. 1765.
6. ix. MARY CLAY, b. 1771, Henrico Co Va.
7. x. PATIENCE CLAY, b. Abt. 1770.
xi. NANNY CLAY, b. Abt. 1770; d. 1811; m. JOSEPH HARE, May 03, 1793, Montgomery Co Va.
8. xii. WILLIAM CLAY, b. November 07, 1777; d. 1842.
9. xiii. HENRY T CLAY, b. 1781.
10. xiv. SALLIE CLAY, b. 1783, Rockingham Co VA.